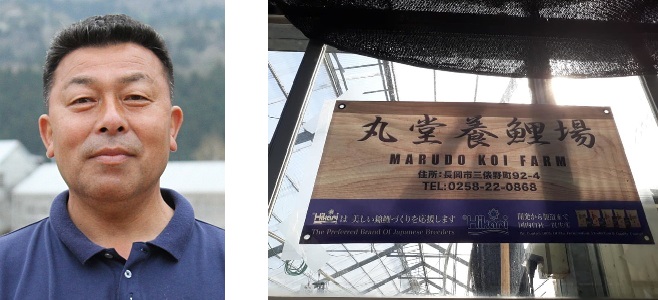 Mr. Hisashi Hirasawa                                   Marudo Koi Farm                           
Marudo Koi Farm is located in Nagaoka, Niigata. It is run by Mr. Hisashi Hirasawa, who took over the farm from his Father in 1987.  It has an approximate raising area of 100,000 Metres Squared.
Hisashi spent 18 years training under the legendary Mr. Minoru Mano of Dainichi Koi Farm, learning everything about the importance of body conformity and strong "Hi".
Hisashi's dream is to breed the perfect Showa, that wins Grand Champion at the All Japan Koi Show.
This extremely difficult feat that has only been achieved 5 times since 1990. The last being in 2014 when Mr. Jospeh Wong won with a Female Showa named "Lion Queen", bred by Momotaro Koi Farm.
For this reason, Marudo Koi Farm puts a lot of time and energy into breeding stunning Showas. For the parents, they use a Female of Dainichi stock, and a Male left by Hisashi's late Father. This is called the "Marudo Bloodline".
From an annual yield of 1,500,000 Showa fry, only 5000 are deemed good enough to raise – 1 in 300. This ensures top quality and a level of exclusivity that makes owning a Marudo Showa a dream of many Koi Keepers around the world.
The other approximately 3,500,000 fry are of varying breeds and as well as Showa, Marudo Koi Farm are known for their Kohaku, Sanke, Asagi, Ogon, Chagoi and Karashigoi.
Marudo's Kohaku and Sanke regularly win prizes at the All Japan Koi Show, and command respect across Japan as top quality Koi.