Yamacho "Chogorou"
Koi Farm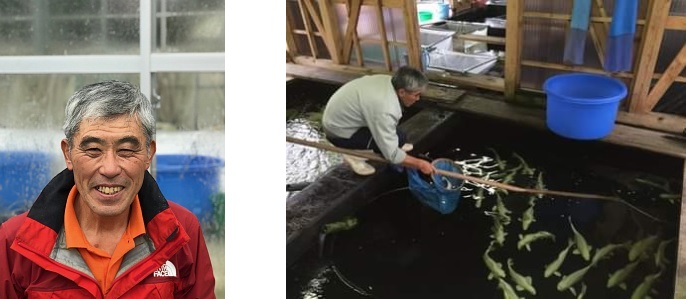 Mr. Nobuaki Hiroi                          Yamacho "Chogorou" Koi Farm
Established around 1965 by Mr. Yoshio Hiroi, Yamacho Koi Farm is renowned the world over for its stunning Platinum Ogons. This Koi Farm is also known by the name "Chogorou" which was Yoshio Hiroi's nickname.
It is located south of Ojiya city, and has a raising area of roughly 20,000 Square Metres.
Yamacho Koi Farm has both concrete and mud ponds, with the latter being fed and heated by natural spring water. Perhaps this is the secret to the unbeatable quality of their fish?
The Platinum bloodline that they use today was established shortly after the farm was founded, breeding a Female Platinum Ogon from Yamazaki Koi Farm with a Male Gin Matsuba from Hoshiyone Koi Farm.
The lineage has been tended to constantly over the years to ensure the highest of quality as Platinums are very sensitive and difficult to breed properly.
After the sad passing of Mr. Yoshio Hiroi, the ownership of the farm was passed to his son, Mr. Nobuaki Hiroi, who kept the name "Chogorou" in honour of his late father.
Nobuaki adheres to a strict culling procedure, carrying out a cull three times per year and only keeping 6000 out of 100,000 fry. That's just 6% that are deemed good enough to raise.
If you are lucky enough to purchase a Platinum Ogon from Yamacho Koi Farm, you'll be the envy of Koi Keepers everywhere.
Treasure that sparkling diamond swimming in your pond!