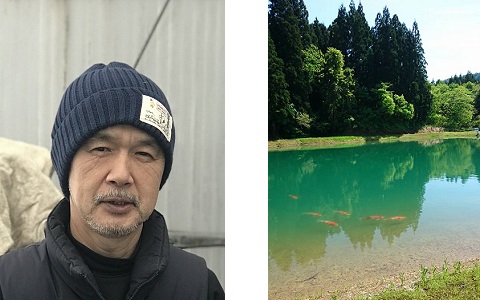 Mr. Tsuyoshi Kawakami                         Torazo Urakawa Koi Farm
Torazo Urakawa Koi Farm was founded in 1917 and is located in Uragara, Ojiya. It has mud ponds along the base of the mountains, so any visitors on their way to Yamakoshi often make a stop here first.

This farm has a raising area of around 40,000 Metres squared and rightly take pride in their beautiful ponds. It is currently run by Mr. Tsuyoshi Kawakami, who is the 3rd generation of his family to own this farm.
Torazo Urakawa Koi Farm is famous for founding the modern Sanke bloodline. The current owner's father, Mr. Hiroshi Kawakami, establihed their renowned "Torazo Sanshoku" in 1949.

Sadly, the parent fish of this bloodline died in an accident in 1952, but their progeny lived on and were used to establish the breed. The main characteristics are consistent body shape, and a strong, solid "Sumi" that doesn't fade with age, as was the case with previous Sanke lineages

Mr. Tsuyoshi Kawakami started to work in the Koi business as soon as he left school in 1978. He was trained by his predecessors, and was taught all the family knowledge to prepare him to take the reigns. 
In the winter time, Tsuyoshi would leave to be trained at Ginsuien Koi Farm, in Fukuoka Prefecture. Tsuyoshi says that through his training, he learned "Breeding abilities" and "Selection abilities".
Torazo Urakawa Koi Farm is also famous for its "Torazo Kohaku", a bloodline of Kohaku with well defined, glossy Beni. This lineage came about in around 1996, when a Dainichi Kohaku was bred with a Murata Kohaku.
These Kohaku are well known for their lustrous and glossy scales, as well as growing to very large sizes.
When selecting parents to breed these Kohaku, Mr. Tsuyoshi follows his own formula. His philosophy is that contrast is key. For instance, if a Female specimen has dull "Beni", the Male must have strong "Beni" to balance it out. They are also chosen from lineages with potential to grow to large sizes.
Mr. Tsuyoshi's principle is "Get very high quality parent Koi at any cost" He keeps a fewer number of fry than a lot of other breeders, and trusts in his own intuition of judging beauty.
Torazo Urakawa Koi Farm has shifted their specialty from Sanke to Kohaku over the years, and has drastically reduced production of the Torazo Sanke. Although the "Sumi" is still as strong and vibrant as ever, the bloodline doesn't grow very big.
They specialise in; Torazo Kohaku, Showa, Shiro Utsuri, Goshiki, and Karashigoi.