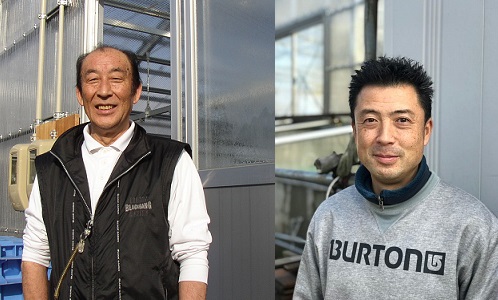 Mr. Harou Aoki                                            Mr. Motoyoshi Aoki
Aokiya Koi Farm was founded in 1972 in Katakai, Ojiya, by Mr. Harou Aoki.
It has a raising area of 20,000 Square Metres and specialises in Doitsu Koi varieties.
What makes Aokiya Koi Farm famous, however, is Harou's talent for breeding entirely new varieties of Nishikigoi.
Born in Yamakoshi village, Mr. Harou Aoki grew up learning about Koi from all the local farms and breeders. He got his first taste of these living jewels for himself when he managed to save up his pocket money to purchase 100 fry for 50 Yen.
He managed to sell these fry the following autumn for 1000 Yen, and thus began his lifelong love of Koi Carp.
Setting up Aokiya Koi Farm in 1972 alongside his already established BBQ Restaurant in Katagai, this Businessman set about trying to create something new and special that nobody had done before.
In the mid 1980's, Harou decided to breed Doitsu with Hikarimono, especially Kikosui.
This resulted in some interesting offspring, which would be bred further until in 1993 he crossbred a Male Kumonryu with a Female Kikusui.
The offspring of this coupling would be the first Kikokuryu, and went on to win the Best in Variety award at the All Japan Young Nishikigoi Show when it was just 3 years old.
Mr. Harou would then go on to develop the Beni Kikokuryu.
The Black and Platinum fish would be named Kikokuryu, and the ones that displayed Red would become Beni Kikokuryu.
Interestingly, like their Kumonryu ancestors, both kinds of Kikokuryu have continuously changing patterns of their Sumi (Black), but the Hi (Red) stays the same.
Today Mr. Harou runs Aokiya Koi Farm with his son Motoyoshi Aoki, who is bringing fresh ideas to the table and carrying on his Father's innovative work.
Who knows what interesting new Koi Varieties they will manage to breed in the future?